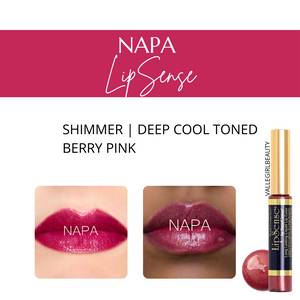 The premier product for SeneGence®, LipSense is a patented, amazing departure from conventional lipsticks and lip colors. LipSense is versatile in that you can mix shades to create a number of effects.
Unique product is waterproof and does not kiss off, smear off, rub off, or budge off!

Does not dry out your lips – it works to restore the moisture content

Color lasts anywhere between 4 and 18 hours
HOW TO APPLY:
For best results, LipSense® products must be applied to clean, dry lips. LipSense® needs to be shaken horizontally prior to application. LipSense® is applied by using a layering technique. Here is how to apply LipSense®:
Step 1: After placing color onto the wand, begin application at the corner of mouth, (usually) using the longest length of the applicator. Keep lips apart, and follow the natural shape of lips starting at the outer corner of the mouth. With one continual stroke, apply one layer of color from one corner to the other corner of the bottom lip, then one layer of color to the top lip. Apply the color, moving the applicator in one continuous direction versus going back and forth like you would with lipstick.
Step 2: Repeat Step 1 two more times, so that you have a total of 3 layers of LipSense® applied to your lips. Let each layer set for a few seconds before proceeding to the next, and do not press lips together. It is not recommended to apply more than three layers of color.
Step 3: When the application of the third layer of color is complete and the color has set, apply one of the LipSense® Moisturizing Glosses over the final layer. Do not press lips together until the moisturizing gloss has been applied onto the last layer of lip color. After applying the gloss, press your lips together to smooth in the moisture rich gloss and enjoy the glorious look and feel of this long-lasting, advanced color technology!
**MUST BE USED IWITH A LIPSENSE GLOSS!!**
**REMOVE with the LIPSENSE OOPS COLOR REMOVER**